Gikoh Ryoba Saw 240mm
$55.00 AUD
'Ryoba' is the Japanese word for double edge. The double sided Gikoh Ryoba pull Saw made by Kakuri lives up to its name. It's a double sided blade and features one side for ripping and the other side for crosscutting. The comfortable rattan handle features quick leaver action to change the replaceable blades.
You will not find a better designed handle on the market. The mechanism to hold the blade is unique in that it is streamlined to eliminate any change of the latch getting in the way of your material. Unlike some other saws on the market, the Kakuri Ryoba's Latch will always keep your blade straight and secure. The blade cuts easily and straight on both sides in many types of timber.
Specifications:
Blade Length: 240 mm
Overall Length: 580 mm
Weight: 186 grams
Steel type: Japanese carbon steel (59-60 HRc),
Handle: Magnolia wood wrapped with rattan.
The TPI changes on the Rip cut side from 9 at the fine end to 7 TPI on the large end.
Cross cut side averaging 16 TPI.
This saw is non-rust resistant.
Use: Multi purposes crosscut and ripping pull saw.
The blade has a plastic case.
Customer Reviews
06/01/2021
I recommend this product
240mm Gikoh Ryoba asw
Very well made and I love the protective cover with the hanging loop. The saw cuts very easily and leaves a very smooth surface, especially across the grain. The rip saw side is easy to use and cuts fast and smooth. I've had no trouble getting a straight cut. Much easier than with a western type push saw.
Tony S.

Australia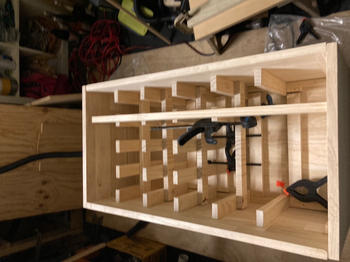 10/01/2020
I recommend this product
Amazing saw
Best saw I've used it in while and really loving all the joinery work I can Do with it.
Anurag G.

Australia
05/21/2020
I recommend this product
Best saw I've ever used.
I was at first sceptical about all the good reviews surrounding Japanese pull saws. But when I tried this for the first time it was better than I could have ever imagined :)
Daniel M.

Australia
11/04/2021
I recommend this product
Back for another one!
Great saw. About to start on my second one. Using it for a variety of tasks including large tenons on a 19th century work bench.
Deryck W.

New Zealand
10/02/2021
I recommend this product
Converted to pull saws
Love this saw, fully converted to Japanese pull saws. The ease of use and accuracy is a revelation. Have since acquired a flush saw. Will be increasing my saw collection over time.
Kevan S.

Australia