Japanese Whittling Knife with Leather case
$79.00 AUD
Within moments of arriving at the JTA workshop, being whipped out of it's case and put to work on some carving blanks, we knew this knife was a special.
This is what happens when a top-class Japanese knife maker studies the design hallmarks of European carving knives, fuses it with their unique HSS-lamination methods and pops it all on a thick handle and in a handy leather pouch with a blade guard.
For western carvers, this knife will feel approachable and familiar. If a sloyd knife embarked on an extended pilgrimage through Japan, reflecting, fasting and philosophising as it went, we think it would return to Scandinavia looking something like this - a little slimmer in the handle, with a light and functional leather case, and a blade that has been shortened, refined and sharpened to within an inch of it's life with a HSS cutting edge. 
That is the key here; the edge. Finding a happy medium between a knife that can take a bevel fine enough for fine finishing cuts while being rugged enough to waste and rough out is no mean feat, and in this little beauty we think it may have just been perfected.
For a few years now the 6mm double bevel carving knife has been our go-to carving blade, however, we now expect this to be our most recommended general whittling knife for the foreseeable future. 
Customer Reviews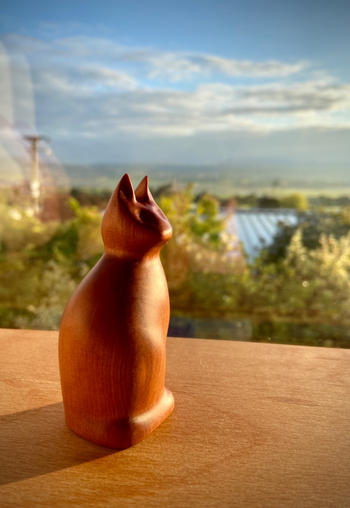 11/02/2020
I recommend this product
Glad I got this knife!
This knife is so comfortable. Seems to be so well balanced in my hand. It will take the finest cut and also will get stuck in. Hones up really well and holds the edge. As expected from a Japanese blade. The pouch is handy too and well made.
Darren D.

Australia
04/08/2021
I recommend this product
Great knife
Really high quality, has quickly become one of my favourite carving knives (and I have plenty) Hold and edge very well, gets sharp and stays sharp. It even comes with a very well sharpened edge which is rare. The case is good quality, handy. Can't say enough good things about this knife, I love it.
Brokk S.

Australia
01/14/2021
I recommend this product
Japanese whittling knife
love my new knife which is making lovely wood chips and some "'interesting"' netsuke, will definitely add to my carving tool collection if my outputs improve. definitely worth the money compared to cheaper brands which dont handle anything like as nicely
g M.

Australia