This ergonomic and innovative honing guide is designed to sharpen Japanese planes, Japanese chisels and western styles blades including concave, convex and older hand forged shapes.
The jig uses a single point of retention to hold plane blades from 42mm to 70mm wide and chisels from 3mm to 42mm wide. The single screw holds the tool securely and allows it the tool to self-align to the sharpening stone. 
The unique design means that tools like Japanese plane blades that have tapered sides and cannot be aligned with other honing guides can be micro adjusted to ensure a perfectly square bevel.
Please note that the body is cast in Taiwan. The complete honing guide is assembled in Japan.
Customer Reviews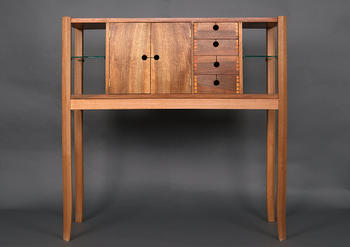 02/27/2020
I recommend this product
JP Honing Guide
Much as expected with very good performance. I have been looking for a means of sharpening JP type blades for a while. However, one serious problem lies with the thumbscrew mechanism to tighten the blade to the guide. The rotational movement of the pressure pad which theoretically allows for independent movement of the pad from the tightening screw never the less imparts a degree of rotation to the blade which has been fitted to the guide. As the guide does not have a means of fixing the blade at 90 degrees once the blade is fitted, it tends to drift from 90 degrees as the sharpening commences, or even before sharpening has started. An obvious improvement would be to replace the screw pad with a cam lock mechanism to ensure the alignment of the blade; such that once the blade is fitted to the sharpener, the alignment is maintained and not distorted when the screw is tightened. This is particularly evident when sharpening narrow chisels. Another improvement would be some means of ensuring the blade is set at 90 degrees to the jigs alignment. This would obviously need to allow for variations in the fitted blades width. Otherwise an excellent device. Mark Wakeham AKA The Timber Tailor
Mark W.
Australia