The Onikatana is a premium Ryoba saw made from high-quality Swedish steel with a proprietary hard chrome plating. Echoing the fabled swords of the Samurais that it is named after, this superb tool combines traditional graduated tooth sizing on both blades with the best materials to deliver a fantastically sharp, incredibly precise and extremely versatile saw.
The 210mm Onikatana is the smallest of the family and is ideal for dimensioning small material where surface finish is required to be of very high quality, or on joinery. Although its kerf is not as fine as a dozuki saw, this small Ryoba is able to leave a great finish fresh off the saw and is a great option for woodworkers who want excellent control over their cuts without the limitations of a spined saw.
The Onikatana's high quality means that it will retain its edge even through long periods of use. We stock replacement blades for the onikatana in this size here.
Specifications:
Blade Length: 210 mm
Overall Length: 550 mm
Blade Thickness: 0.5 mm
25 Teeth per 30 mm Cross-cut
11 Teeth per 30 mm Rip-cut
Customer Reviews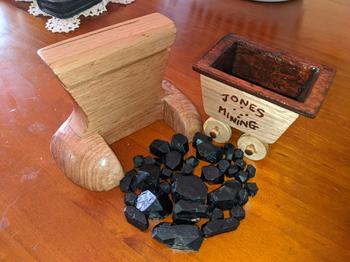 10/01/2020
I recommend this product
210mm Ryoba Saw
It's just a brilliant little saw, it tackles the densest of hardwoods and makes light work of soft woods, I had until 3 days ago, used it for just about anything from a large Victorian Ash Shelf to a small pine mining cart I was commissioned for, my Ryoba split about halfway down the Crosscut side, so I am saving my dollars to get all 3 sizes. Thank you very much, Steve.
Steve Z.
Australia
12/19/2018
Very happy, thankyou
Very happy, thankyou
04/03/2018
Amazing saw
Feels incredible in the hand and cuts like butter
04/03/2018
Japanese Tools Australia
We're pleased that you're pleased, Ted. May your eye be keen and your kerfs be clean! The JTA Team
03/28/2018
Great saw. Very good for
Great saw. Very good for cutting tabs of plywood.
04/03/2018
Japanese Tools Australia
Hi Phillip, Excellent to hear that you're enjoying the Onikatana. Don't be afraid to put it to work on some finer stuff either - this excellent saw is very versatile and we hope will give you lots of service all around the shop. Wishing you happy woodworking, The JTA Team
01/24/2018
Nakaya Ryoba Saw, Professional Onikatana 210mm
Brilliant piece of equipment for every carpenter's shop!