Leather Craft Knife by FEDECA
$95.00 AUD
As comfortable as holding a pen, with a beautifully sharp blue paper steel blade, cutting out leather is made easy with the Leather Craft Knife by FEDECA.
It is in Miki-shi, Hyogo that this leathercraft knife was created, through joint development with leatherworker Masaoka-san of 'PENGURI LEATHER AND FABRIC'. During this collaboration the guys at Fedeca established three qualities required for a unique knife.
1. Superior operability
2. High quality blade
3. Ease of maintenance
The blade is approximately 1.5mm thick and uses blue paper Yasugi steel loved by professional craftsmen. It is this fine blade which makes it is easy to steer the point of the blade to cut curves.
The blade is easy to maintain with a sharpening stone.
Materials:
Single edge with blade
Two levels of blade Yasugi steel indigo-blue paper 2 steel
Walnut Handle
Brass Screws
Specifications:
Length of Blade: 23mm
Thickness of the blade: 1.5mm
Full length after assembling: 145mm
Customer Reviews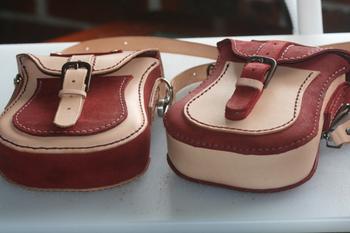 11/04/2021
I recommend this product
Fedeca Knife
Lovely sharp knife, good hand feel. On the thicker leather I did need a couple of passes to get through. Great for cutting curves
Grace P.

Australia
09/30/2020
I recommend this product
Beautiful and sharp knife
Amazingly sharp tool that can make clean cuts and hold an edge. Fifth day of using it on 3-4mm thick leather and have only stropped it once. The shape of the handle feels natural and comfortable when making precise curved cuts or straight cuts. Postage was fast, so was delivery. When I called to ask questions about the bevel of the blade, I received a high level of customer service.
Elkin M.

Australia